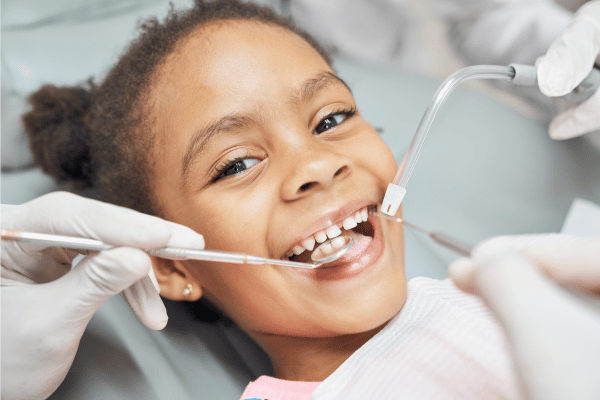 The dental industry offers a full range of services to not only protect dental health, but also ensure the function of your teeth and gums. When you schedule an appointment with a dentist, not only do we look at general dentistry services, but there is also an opportunity to talk to our team about restorative dentistry and more.
What is Restorative Dentistry?
The term "restorative dentistry" refers to any procedures and treatments that are designed to restore the function and structure of your teeth. There are many different types of treatments that can be used when your teeth are damaged or decayed.
What is a restorative procedure in dentistry? Examples of restorative dentistry include:
Fillings: Composite fillings are the most common restorative dentistry treatment used in modern dentistry. This treatment is helpful for repairing decayed teeth and can also structurally repair a tooth that was chipped or broken.
Bridges: These dental restorations can be used to fill in the gaps after one or more teeth are extracted. Several crowns are connected together, then bonded to a nearby healthy tooth to "bridge" the gap. Or, dental bridges can be secured to a dental implant if needed.
Implants: When severe damage occurs, dental extraction might be the only option. Your dentist will discuss dental restorations after tooth extraction, including dental impacts that hold artificial teeth in place. The implant post acts as the "root" of the tooth.
Crowns: When the overall structure of the tooth is compromised due to serious damage, then a dental crown is a great option to protect the remaining portions of the tooth. This "cap" covers the whole tooth above the gumline to minimize the risk of future damage.
Bonding: Small chips or breaks in a tooth can be repaired using dental bonding to repair the damaged areas. This process recreates the missing part of the enamel by bonding composite material to the surface of the tooth.
What Does a Restorative Dentist Do?
Most restorative dentists offer general dental services, including basic care such as cleanings and examinations. During these appointments, a restorative dentist will determine if additional restorative treatments are needed. Then, you can custom-design a treatment plan to match your unique needs and dental goals.
Is restorative dentistry a specialty? No, this category of dental treatments is not specifically recognized by the American Dental Association (ADA) as a specialty.
What is the Difference Between Restorative Dentistry and Cosmetic Dentistry?
Even though these two phrases are sometimes used interchangeably, there are distinct differences between cosmetic dentistry and restorative dentistry.
Restorative not only improves the look of the tooth, but the primary goal is to ensure the function and durability of the tooth. On the other hand, cosmetic dentistry is primarily about aesthetics. Some restorative dentistry treatments also fall in the category of cosmetic dentistry. But not all cosmetic dentistry treatments are restorative.
For example, fillings restore the tooth and also improve overall function, so they can be considered both cosmetic and restorative treatments. But tooth whitening only changes the appearance of the teeth without affecting function, so this treatment is cosmetic.
How Much Does Restorative Dentistry Cost?
The cost of restorative dentistry depends on the type of treatments used as well as the teeth that are affected. Fillings and bonding are some of the cheapest forms of restorative dentistry. The costs increase for more intensive treatments, such as dental implants, crowns, and more.
Additionally, the cost of the treatment will depend on your dental coverage. If you have dental insurance, then it's possible that the insurance provider will pay for a portion of all of the restorative treatment. You might have out-of-pocket costs for restorative dentistry, such as a copay or the remaining balance after the insurance company has paid.
Our office staff will provide more information about pricing and anticipated out-of-pocket costs before your restorative dentistry treatments.
Full Service Dental Care from myDental
If you are wondering "what does a restorative dentist do?" or "can a dentist restore teeth?" then we invite you to schedule a consultation with our experienced dental team. Not only do we provide a range of general and restorative dentistry services, but our staff works hard to answer your questions and provide information about available treatments. We offer full-service solutions to ensure the function of your teeth, while also optimizing your smile at the same time.
At myDental, we are here to help with restorative dentistry servics and more. When you are ready to schedule a consultation and cleaning, then book an appointment at one of our nearby locations. Call any time if you have questions about available services.